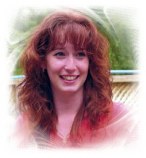 Who was Katie
On September 26th 1978 a bundle of pure joy entered this hard world to make it a better place. Anyone that knew Katie would have to say that the first thought of Katie was, she was always smiling. Katie whirled through her life trying to have fun and making the sun shine where ever she was.
Kathleen Lilly Anne Gough a big name for a 5 lb baby girl but Kathleen soon became Katie and that name would follow her throughout her life.
Katie cherished her belongings and took such good care of what she had. In fact her toys are still in their original boxes, packed in her room. Just the way she found them. She would play with them then carefully put them back just the way she found them.
She loved family and was very protective of her friends and family. She was a lover not a fighter, but she would defend to the end. Katie went through school an "A" student and received a scholarship to attend college but getting married excited her more.
Katie grew up around animals and loved her horses. She qualified for the Youth Worlds twice and won many high Point Trophies and Year End awards. Next to Christmas, Katie loved Quarterama and took the week off school every year to be there to work, show or both.
Katie was an avid snowmobiler and the bigger the machine the better. Her last sled was an 800 Mack z and I will never forget the day, in a race she beat Steve. At the finish line she through up her arms and yelled "I won". The fact that there were 15 guys watching her and getting her on the radar timer really heightened the moment. Of course Steve was pissed and wanted to sell his sled right there and then.
Katie loved the excitement of the trips we planned and of the adventure ahead of her. Never knowing what we were going to end up going through. I never once heard her complain about it being to hard, to cold, to fast. Nope Katie went along for the ride.
Next to snowmobiling, she inherited her Grandpa's love and natural ability to hunt. She bought a Remington 1187 her first year and took her limit in partridge. She was keen and wanted to know how to find them, how to hunt them (off the roads) and their habits. She loved our camp and deer and moose hunting. Again never complaining, everything was cool no matter how long or cold the day ahead of her was.
I remember when she had to come to camp by herself and drive her truck and trailer with the 4 wheeler on it. She was so proud she was able to do that on her own.
Katie loved kids and since she was just a little girl, people would ask her what she was going to be when she grew up. Her answer was "A Mommy".
Different times during Katie's work career she was sent away to school and she would phone me and say,"pack your bags, we are going to school"
till tomorrow....







Katie Easter Morning 1980

2005